This is an unofficial fan site of Beth Allen.
I do not have any contact to Beth, her manager, Cloud 9 Studios or South Pacific Pictures.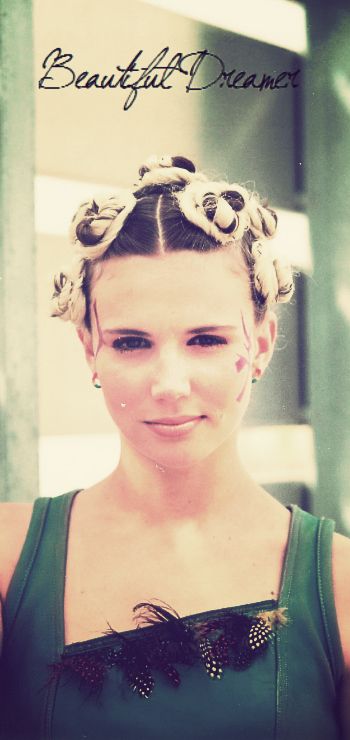 09. February 2009 Beth made it to Press Display and TV guide! Read in the interviews section. Special thanks to Emma for the scan. And as for links...there is a new one in www section. Something to do with Dwayne Cameron. And screencaps from 2008 Shortland Street finale are in the gallery now. More screencaps from episode 4154 of Shortland Street and extended article about current shortland episodes.
15. January 2009 Hopefully you've had a great start of 2009. I have five more new facts that you might not have known about Beth, right here. Just scroll down to "Things you didn't know". And a mobisode from 2009 preview is now up, too. An investigation video of Brooke - so did she kill her ex-lover Ethan or not? My vote: not. Screencaps from the video are also in the gallery under the shortland street section.
17. December 2008 Added a webchat from Shortland Street's official homepage and two more videos of Beth as Brooke on Shorty (parts two and three) to the video section. With that, I wish you all a Merry Christmas and next update will be made next year. Stay tribal!
10. December 2008 Beth appeared on AdiCouture, a charity event where she (and Antonia Prebble) were models to support the KidsCan StandTall Charitable Trust And she managed to look classy as always.
Also, it seems that Beth is in fact more than just an actress when it comes to "The Eight" as she and her boyfriend Charlie McDermott were behind the whole idea. Read more here... ETA: thanks to Clare from TribeHeaven for digging up a photo of Beth on the runway.
20. November 2008 Beth says the play ("Reindeer Monologues") is now her "pet project" and she loves to keep her brain ticking over it. And a few tidbits about her role on Shortland St.aswell -
the new interview with Beth
. The Gallery has been updated and restord partly, Screencaps from Shortland St. are now also up.
And Beth went to theatre....if I had to pick, I'd definitely say she was the most beautiful person on that picture.
See Gallery.
12. November 2008 Are you from New Zealand? Then here's your chance to see Beth on stage - for free! Enter this competition and be in to win tickets to "The eight: Reindeer monologues" or as described - Sex. Lies. Santa, a dark comedy.From December 4th-19th. Read more...
6. November 2008 A very nice promo clip with Beth from Shortland Street's Official homepage is up over at Videos. Just 15 seconds long, but at least it's all Beth.
4. November 2008 An interwiev with Ray Thompson is now up in The Tribe section, where he talks about his vision and ideas for The Tribe. It's from way back but since the 10 years celebrations are a hot theme, I found it a good thing to add to the site.

28. October 2008 Happy 24 years and 5 months birthday to Beth! A great video interwiev with Beth is up now, thanks a lot to Jebrill from Tribe-Cast.

21. October 2008 I've added to the gallery three gorgeous photos from Vodafone NZ music awards that took place on October 8th 2008. Beth looks fantastic there!
19. October 2008
Our girl just keeps on shining! NZ Herald wrote an article about her. Read in in the interviws section (
Stolen Love
). Oh, and also have added a few new photos. And put up all the old interwievs again.
09. October 2008
Another month, another update. This time I bring to you a video interwiev with Beth that was made for Good Morning New Zealand and aired August 14th. So it's not that new, but still worth watching!
9. September 2008
An exclusive video with Beth! has been added. Her first three episodes on Shortland Street. And - to celebrate five years of "Amberangel" - we now have a brand new layout...and a new domain address. Good or bad, but the site grew more and more Beth-centric, and thus, a new html address bethallen.webs.com. I've transferred all really sweet guestbook entries to the new siite so that they wouldn't be lost. And a new affiliate Jay and Trudy in love.
Another interview with Beth
is now up. More about Beth herself this time. Hey, she's discovered cooking and is happily single atm. Oh, just read yourselves.
29. July 2008
The interview with Beth has been added! Read what she thinks of the opportunity she's been given with Shortrland Street.

9. July 2008
Something new and interesting about Beth Allen: She'll be making a debute in New Zealand's Hospital series "Shortland Street" playing the role of Dr. Brooke Freeman there.

2. July 2008
We now have two more affiliates: SweetNemesis and Just Tribal. First of them is a fanart site, second one is all about The Tribe. Take a look, they're great.
9. April 2008
Here's just a quick update: added some trivia facts to Amber's page and also, interesting information about
Raymond Thompson is now up in The Tribe section...did you know this man makes wine?

5. April 2008
The spring has finally arrived and that should be celebrated....with a new layout "closer". Well, you requested Eagle and here's Eagle. True blue...and with an identity crisis of a sort. For the banner I'd like to thank Ashley. And the song is "Closer" by The Corrs. Also, five more avatars have been added. Also, a new wallie from Joi: Unseeing eyes and also Childbirth and A future by Josie. And one more from Sara: Happiness.

19.March 2008
Wow, update time again. This is getting frequent. Okay, okay - just added a video interview about Beth's costume in series 4 of The Tribe. The quality isn't anything much, but it's better that nothing. Over at StyleSheet.

10.March 2008
Some more gorgeous art. Ten avatars added, and three new wallpapers. First of all, Josie's Living alone, portraying Amber's life after the explosion. And two wallies from Joi: Waking up - Amber thinking about Bray and how hard it is to wake up without him every day and then a wallpaper where Amber and Trudy meet Jay and Ebony while they're on the run.

4.March 2008
Now we have an audio interview with Beth Allen while she was filming Tribe season 3 in Wellington. Nice and insightful, in interviews section. Enjoy.
4. February 2008
Added style file: Amber's kidnap costume (red dress) to brand new StyleSheet section and also, a little interview with Susan Glass - so if anyone wants to make zulu knots, it says how to right there. I am proud to say that our database has now exactly 150 avatars for all Amber fans out there to choose from.
12. January 2008
Happy new year everyone! If you need a tribe-style calendar, then you've come to the right place. Download: Europe 2008 and USA 2008 Calendar. Created by fans on tribetalk!
09. November 2007 There is a great weblisting called Tribe Links. It is well-categorized and really handy to have as a favourite. I found some good old sites there but also had pleasant surprises.

17. October 2007 I've discovered a new lovely website Tribe Cast. It is being translated to english and those who know german can find valuable information there already. And lovely pictures, too. So take a look. Also, on 8th October, Beth was starring on Power Rangers - Operation Overdrive with Dwayne Cameron, playing the role of Vella in episode Home and Away. So please - here are a few photos.
7. September 2007
Hope you all have had a great summer. Some news: there is an online petition to bring back The Tribe. Sign it and KTDA!

8. August 2007
Hello! I have added a few long bramber-quotes from series one and three.

7. June 2007
A new layout "Bright new world" is up, inspired by Amber and baby Bray. Something a bit darker than the last one, matching the colors of Amber's room.
What else....well, I've been gathering a few avatars and trying to rearrange them, also I have series three screencaps that I want to get up. Once my exams will be over, I'll get to that too.
1. May 2007
This is to say thank you to Pernille for the picture on left. It's Beth and she's all smiles! And added a link to Season 6 - dreamkeepers to the links listing. Great site, Wendy! And two new season 5 avatars, made by request. First:Erin's and second: Anna's.
16. January 2007
Hope you've had a great beginning of this year! Another new wallie is Simon's Show you Great colour scheme, if you'd ask me. And a great artist overall. My exams are almost over, so now I have a bit more time to spend here on my hp and also rearranging Dawntime Children. Maybe even make another music video, who knows? Anyway, I've added a comment box to my first video, so you can criticize. ;)
15. December 2006 Hope that Santa is heading your way with lots of presents! Anyway, I thought it would be a great Christmas gift if I added a few sites of Tribal Artwork to my links listing. Oblivious is well-known and has been in my affiliate list for ages, but now Rainy Clouds by Lou and The Tribe Art by Hanna-Liisa have also been added. They're both wonderful ones.

20. November 2006
Time for a new wallpaper to be added. Things you won't forgive - and thank you Sara for your contribution. This is also set to be wallie of December. Two other wallpapers, Werent There by Pernille and Hurt by Sara. I wish I had a bit more time for updates, my galleries need refreshing. Maybe some time in december. Stay tribal.
23. October 2006 My first music video is ready and uploaded! It's about the friendship between Amber and Trudy: Your best Friend that's what they are, afterall. So enjoy, and leave your comments.

13. October 2006 Wallpaper of the Month is a blend this time. Thank you Lina for permission: Sleep Forever. And I have added a few new pictures to Pre-Tribe section. God, they look so young there.
24. September 2006 Added a new (award-winning) avatar "New life"
07.September 2006 I have updated a few facts on Beth's page, and I'm working on a big avatar-update. First I need to gather all the great avatars and get permission to use them from everyone. That might take a while, but I'll end up with well over 100 avatars. I keep an eye out for donations when it comes to wallpapers. If you want to contribute and make this site look even better art-wise, let me know. And since it's September, our Wallpaper of the Month is Stay Gold by Annie.
01. July 2006
I'm glad to say that the long-awaited update has finally taken place. Amberangel has some new content - such as music, blends, new wallpapers.
New layout aswell - "Book Of Love" inspired by Peter Gabriel's wonderful song.
Read: Book Of Love
16.05.2006 Added a letter from Beth! ;) Standard reply, but still. :)

13.04.2006 Talk about exceeded bandwith, LOL. Well, I have managed to successfully un-freeze my site. Sorry to all those who wondered where Amberangel has dissapeared to. To make it up, there is a new gorgeous pic of Beth Allen on Beth section. :D Thanks to BAO. If you want it, you gotta mail me.

07.04.2006 I have created a few avatars and I'm proud to say that they're now in Artwork section. :D

17.03.2006 Added a blend inspired by "Titanic". Important!!!! Get yoursel a first Bramber cd, made by the bramber-fans on Eyeboards!
15.03.2006 I have updated the Families section. More characters there now. :)
06.03.2006 Well, I've added three Eagle Mountain wallpapers, two created by Selina (the colder-looking ones, very cool) and one by Caterbug (Bray only).

02.02.2006 I have updated before, but never updated this section. LOL. Anyway, a new sunny look for my little site! And just wait, I'll be adding avatars and maybe banners soon. (Artwork section).

12.11.2005 Well, as freewebs has improved itself greatly, so can I. The site's going through a few minor changes, hopefully good ones! Added Two new features: Map of Tribeworld and Map of Phoenix Mall (they are both from the original german tribe book).

16.10.2005 Still around and just found a fantastic Amber site: Tribe Leader. Oh, and take a look at Sarate's art site Oblivious! It's amazing. .

08.08.2005 Adding quotes! There are so many up by now, go take a look!
14.07.2005 Rearranging the wallpaper section. Soon, there will be more sweet wallies.
10.06.2005 Major updating in gallery section. Now you should be able to see some pics even!

25.02.2005 Welcome to my new affiliates Lost Innocence and The Tribe Spirit!
07.01.2005 New Wallpapers in Wallies section! And a whole lot of new things.

19.09.2004 The Dream must Stay Alive music added.
12.09.2004 A few new quotes.

04.06.2004 Notice the BUTTERFLIES! A cute wallie on Baby Bray page aswell, thanx to Annastasia!

28.05.2004 New Layout to Beth Allen's birthday!!! And some other minor adjustments made.

09.05.2004 Bramber-banner up! New background on Quotes page!

05.04.2004 Lots of series 1 Quotes and some surprises on Baby Bray page!

12.10.2003 Ill try to put up new quotes and pictures soon.
22.07.2003 Site opened...well, name has been thought of. And some content added.