This is an unofficial fan site of Beth Allen.
I do not have any contact to Beth, her manager, Cloud 9 Studios or South Pacific Pictures.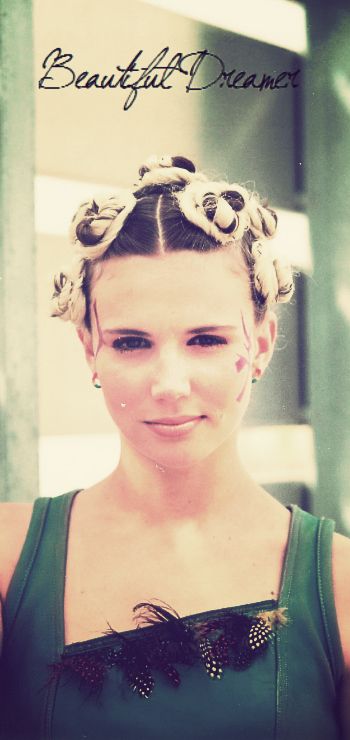 Brooke Freeman
(born
Brooke Marsden
) is a fictional character in the New Zealand soap opera
Shortland Street
. She is portrayed by Beth Allen. Brooke is known to be rather cocky, selfish and a general stereotype for beautiful women but this slightly changed when Brooke schemed her way into dating TK Samuels. She is also considered one of the primary antagonists of Shortland Street and she is referred to as a
soap bitch
but the actual reason is that she could be a sociopath.
Brooke has been referred to as Shortland Streets answer to Bonnie Parker on two separate occasions, the first when she dated the dodgy Kieran Mitchell in 2009 and in 2010-2011 for her relationship with bad boy Isaac Worthington
Date of Birth: 8. September 1982 (revealed in episode 5084)
Birth Name: Brooke Marsden
First appearance: 24. July 2008 (episode 4035)
Mother: Annette Freeman
Father: Grant Marsden
Sister: Bree Hamilton
Brooke initially comes to Shortland Street as a locum GP. She is only recently qualified, but gives every impression of being competent, confident and ambitious.
The truth is that Brooke finds general practice a chore, and sometimes struggles to maintain her professional façade through the minor coughs and aches and pains.
However, she wants the experience on her CV and is resigned to part-time GP work for a few more years, while she completes her GP consultancy training and specialises in dermatology.
When not working as a locum GP, Brooke works in various local cosmetic clinics, mostly doing botox, liposuction and laser skin treatments.
It's boring, but lucrative work, and Brooke plans to one day open her own cosmetic clinic - and make some serious money.
Shortly afterjoining the team at Shortland Street, Brooke caught the attentions of both
Kip Denton
and
Chris Warner
. Chris eventually won Brooke's favour, and she moved into his house.
However, Brooke felt her romance with Chriswas hampered by his son, Harry. The relationship eventually unravelled and Brooke turned to old loverDr Ethan Pierce for comfort.
Ethan rejected Brooke's advances, and several days later, he was shot by an unidentified assassin.Brooke was questioned by the cops but her alibi stood firm.
Then Brooke's father Grant Marsden came back to Ferndale. She and her mother had been abandoned by him when Brooke was a teenager.
He had been convicted of insider trading and then escaped off shore, leaving Brooke and her mother penniless.
Brooke was always convinced that he had money overseas which he kept from them. Her friend (and then-lover)
Kieran Mitchell
helped her pull off a scam to claim back some of her father's hidden fortune.
Brooke schemed her way into the top job (HOD) at the Primary Care Clinic,at the expense of fellow GP
TK Samuels
.
Her financial stake in plastic surgery outfit The Dumont Clinic saw her desperately juggling time away from the PCC at the expense of her patients. The Dumont clinic went under.
Brooke turned to schmoozing CEO
Callum McKay
in order to stay in his good books. Eventually Callum left his estranged wife Justine for Brooke.
Their relationship was a rocky one and very on/off. The two broke up late in 2009. Brooke moved into TK and Sarah's house and set about trying to undermine their marriage. When Sarah left TK, Brooke was around to offer comfort to TK.
But the relationship was shortlived when needy Brooke tried to get pregnant and failed. TK let her down gently.
With the closure of the PCC, Brooke got a job at Shortland Street on the medical ward. Her mother Annette turned up in Ferndale mid 2010. Brooke struggled to get her into a rehab facility for alcoholics.
While she was battling with this, she had a brush with suspected ovarian cancer.
Before Shortland Street Brooke was the daughter of successful business man Grant Marsden but when she was teenager her father was done for insider trading and escaped leaving Brooke and her mother Annette with a lot of hatred towards him and no money. She and her mother started a new life and changed their surnames to Freeman. It was revealed that when she was 20, she had an abortion while at medical school.
Sometime before landing a job at Shortland Street, Brooke met, got taught by and started dating
Ethan Pierce
, who was her domestic partner for eight years. Arrival at Shortland Street and relationship with Ethan Brooke arrived at Shortland Street in July 2008. She instantly attracted a lot of male attention including that of local playboy
Kip Denton
and recent widower
Chris Warner
. Soon after Brooke arrived, the new surgeon arrived too. His name was Ethan Pierce. None noticed, but Ethan and Brooke obviously knew each other previously. Chris caught onto this and Brooke dismissed it saying he used to teach her.
Tania Jeffries
and
Tracey Morrison
instantly disliked Brooke as they thought she was playing games with Kip and Chris. Ethan convinced Brooke to date Chris so he could have a higher chance of becoming Head of Surgery.
Chris and Brooke's relationship went far and Brooke was getting used to being rich again. The Ferndale newspaper published an article about Brooke, it revealed that Brooke's real name was Marsden and that her father, Grant scammed millions of dollars off people. She changed her name to Freeman to get away from this but still people got angry at her after the paper was released. Chris' son
Harry Warner
instantly took a dislike to Brooke too. They two would often bicker and fight and Brooke lied to Chris to get Harry in trouble. Eventually, Chris had enough and broke up with Brooke. Another person who took a dislike to Brooke was
TK Samuels
, he did not appreciate her methods and did not believe she was a real doctor. Ethan and Brooke's romance stopped during Brooke's relationship with Chris even though Ethan's plan had worked and he landed HOD of surgery. But Ethan started dating party girl
Alice Piper
and secretly recorded having sex with her and uploaded it to the internet like he did often with Brooke. Brooke tried desperately to get him back but never won. She even had a catfight with Alice and revealed the truth about Ethan recording her. On Ethan Pierce's last day alive, Brooke pleaded with him to take her with him as he was leaving the country. He reluctantly agreed but as she tried to get in his car, he sped away. Brooke hastily went to Ethan's seaside house to find blood all over the ground. She heard a noise but ignored it and ran outside. She discovered Ethan crawling to the sea. Ethan Pierce died in Brooke's hands on 19 December 2008.
Brooke instantly became a lead suspect in the killing and many of her workmates believed so too. In April 2009, Alice watched as Brooke was arrested for the killing. She was later released and local nurse
Maia Jeffries
was discovered to be the killer. Brooke briefly hated Maia for this reason but her hate towards her ended. Brooke and Kieran, Shortland Streets Bonnie and Clyde While Brooke was in custody for Ethan's murder, Brooke's father Grant Marsden (Alan Lovell) arrived for her support. Brooke was still incredibly angry at him for running away from her. To pay him back, she enlisted the help of local IV owner
Kieran Mitchell
. They pretended that Grant needed a serious heart treatment. They staged a surgery and accepted his money. Kieran was romantically linked at the time but the two drifted apart and Hunter tried to gain Brooke's attention but failed. Appointment as HOD and the Dumont Clinic Halfway through 2009, Brooke was promoted to HOD to TK's shock. Brooke, annoyed at TK constantly pestering her, got him moved to ED. But Brooke could not balance time between being HOD and working at a plastic surgery facility she owned called Dumont Clinic. She asked
Sarah Potts
to cover her. The two became good friends until Sarah found out Brooke was skipping Shortland Street to work at Dumont. She refused to help Brooke any more.
Shanti Kumari
's mother Shobna came to Brooke asking for breast lift surgery. Brooke accepted and eagerly took Shobna's payment of four thousand dollars. Unfortunately, Dumont shut down just before the surgery, leaving Shobna four thousand dollars poorer. Relationship with Callum and shooting While Brooke was getting accused of skipping Shortland Street to work at Dumont, she would often flirt with
Callum McKay
the CEO to get out of things. Brooke, desperate for money, started a relationship with Callum much to everyone's disgust. Eventually Brooke started actually loving Callum. But in July 2009, Callum's apparently dead wife
Justine Jones
returned to testify against John Grainger and the dodgy pharmaceutical company
Scott Spear
. It appears she was in Witness protection.
Callum told Brooke it was over, but Brooke knew he loved her too. She went to the safe house that Justine was staying at and put the whole family at risk. She forced Callum to drive with her to the trial. Unbeknownst to everyone, local hitman
Don Lennox
had been hired to kill Justine. He was hiding in the bushes outside the court. When Callum emerged from the car with Brooke, Don mistook her for Justine and shot her in the abdomen. Brooke fell to the ground and Callum realised he really did love Brooke. Justine realised this too and left to Australia without Callum. Brooke survived the shooting and was currently giving Callums daughter
Sophie
tips on Kieran. However on the day of her birthday, Sophie and Kieran attended (Though they were not invited) and announce that she (Brooke) had knew about her and Kieran becoming close with one another, causing Callum to become firmly disappointed with Brooke. They spend some time apart but eventually made up. Bad News, and The New Brooke? As the weeks go by, Brooke attended a conference held in Australia, while Hunter tried to make Callum believe that she was going to have an affair behind his back. Though when she returns, she finds Callum having an evening dinner with Rachel, who was sent as the DHB's supervisor for Callum, at the IV. Believing him to be on a date, she walks out of the IV with Callum following her trail and missing the announcement of Sophie and Kieran's plans to marry, though Hunter finds out from Rachel later on. The next day, Brooke attends a meeting between her, Sarah and Rachel, who demotes her from her position as the HOD of the PCC and gives Sarah the opportunity to take that position. Feeling sour and betrayed, she goes to Callum for some support but he tells her that the fact that she had been spending more time at the Dumont Clinic and leaving most of her work behind at the Shortland Street Hospital for Sarah to deal with, the decision had to be finalized. Brooke becomes upset of this outcome: She is no longer the HOD of the PCC and has broken up with Callum.
Now Brooke has decided to change her selfish and manipulative self to a good and understanding person. She had connected with a girl name Polly and played Netball with her and attended a dinner event at Sarah and TK's home, with her behaviour controlled as Maxwell showed his disapproval of her and she heavily despises Kieran.
Breaking up TK & Sarah's Marriage, and Relationship with TK Brooke decided to kick Maxwell out of her apartment but he went to Callum, who decided that Maxwell should have the apartment to himself and Maxwell kicks Brooke out. Brooke became very sad and stayed home at night crying. TK came as he thought Maxwell was leaving and he comforted Brooke. Brooke realized that TK was the man she wanted. The next day, Sarah kindly let Brooke stay at her and TK's house. Brooke's affections for TK grew and she was disappointed as TK and Sarah seemed to be getting even closer together. TK was still disappointed that he and Sarah could never have kids and he was taking this out on other children. Brooke told Sarah this, who asked TK which resulted in another argument. Brooke was happy as her target was getting closer to her. Now she has slept with TK, after his marriage with Sarah failed completely and she had moved on with Maxwell and successfully becomes even more close with him. However, TK revealed to Brooke that he never loved her at all, but Brooke does not give up. On March 5, TK decided to give a relationship with Brooke a chance. Brooke managed to manipulate TK into loving her by being nice and giving food to homeless people which backfired but she still managed to get TK to continue their relationship. In April, the PCC was announced to be closing, Sarah and Brooke decided to buy it out, but Brooke did not have the funds so Sarah asked TK. TK agreed and Sarah and him became business partners. Brooke, scared that they would get back together ran to her and TK's room and pricked holes in his condoms, hoping that a baby will secure their future.
Brooke then announced to Sarah she was no longer interested in working there and went to Callum for a job and eventually received a job in the medical ward. Brooke rushed out on a patient with a oral disease and Nicole reported her, she told Callum in front of a full triage that she thought she was pregnant. This shocked TK and upset him. But the test turns out "Negative". On Wednesday 19th May 2010, TK breaks up with Brooke, leaving her heartbroken and devastated. Later Brooke learnt that Loren was pregnant and supported her decision to get the baby terminated as Brooke had a termination when she was 20. Daniel also told her that he snuck condoms from TKs drawer and Brooke realised that her poking holes in TKs condoms caused Lorens pregnancy. After severe low self esteem from her break up with TK, Brooke started a friendship with asexual
Gerald Tippett
which soon turned into a genuinely caring one. Brooke helped Gerald apply for a job interview and organize his wedding.
On 7 July, Brooke caught Annette sleeping with DHB high flier William Nungent. As July progressed new nurse Wendy Cooper noticed something was wrong with Brooke and Brooke started suffering intense pains. She went to the doctor and it was discovered she had cysts on her ovaries.
Brooke later starts dating Isaac Worthington and the two create a troublesome partnership.
2011
In 2011, Brooke learns that Isaac may have caused Luke to be kidnapped and murdered but she is relieved when he turns up fine. When he starts investigating his kidnapping, Brooke and Isaac work together to frame him for drug possession going so far as to pretend to break up to gain his trust. Brooke plants morphine in his house which Chris discovers. This on top of past suspected drug problems causes Luke to be suspended with pay seeking investigation. Brooke shows remorse while Isaac does not. Brooke later sleeps with leading asthma doctor, Larz Hammett to get credit for his groundbreaking work, he has a heart attack and dies however before Brooke is able to get the documents. She soon steals them and takes credit for the findings On the plane, Brooke realises she's about to throw away her independent success to rely on a man who doesn't see her as an equal but Brooke abandons him and break up with Isaac
In April 2011 Shane Tucker decides to get Brooke a research assistant but Brooke is alarmed that an assistant might discover that she stole her research from Lars Hammett. She convinces Callum that she doesn't need a research assistant after all but Sarah is concerned by the sacrifice Brooke appears to be making. Sarah is determined to help when she believes Brooke is self-sabotaging due to a lack of confidence. Brooke frets when Sarah helpfully sets her up with a sharp research assistant, Winston, who is full of questions and may know a little too much about Brooke´s past.
Producers introduce Winston Youn (Min Kim) as her "devoted and meticulous" research assistant. When Kim auditioned for the role, producers were "blown away by his portrayal of the admiration the character felt towards Brooke."
Winston becomes Brooke´s assistant, but she is left disturbed by his stalker tendencies. He helps her bond with her mother and the two soon become good friends. Brooke is scared by the presence of Lars's wife Nadia Hammett (Jessi Williams). Nadia soon learns the secret, so Winston murders her (June 2011), Brooke begins to suspect something but Winston warns her off.
In July, Brooke meets up with Alex Murphy, an old childhood friend and her first love at the age of 16 years. They last met in 1999 and now take their chance to meet up and talk, which leaves Winston quite jealous.