This is an unofficial fan site of Beth Allen.
I do not have any contact to Beth, her manager, Cloud 9 Studios or South Pacific Pictures.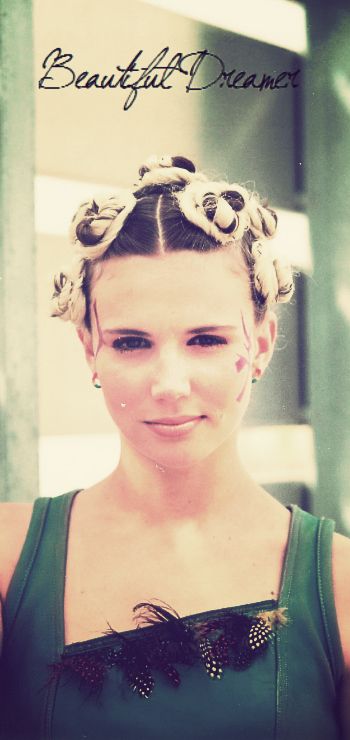 is a New Zealand drama television series that was first broadcast on Monday, 25 May 1992. The show is set in a modern metropolitan hospital in the fictional suburb of Ferndale in Auckland City, and is produced by South Pacific Pictures. In New Zealand, the show screens on Television New Zealand's TV2 weeknights.
Today, most of the filming for Shortland Street occurs at South Pacific Pictures Waitakere City studios.
There is a real Shortland Street in Auckland City, but the series is set in an outlying, imaginary suburb. There are several other locations, including The IV, a bar and restaurant, located opposite the hospital; Sugar, a cafe located somewhere in Ferndale; and Ferndale High School, the local state secondary school.
The producers of Shortland Street have tried to make the show reflect the current trends in New Zealand health services. As a result, the hospital featured on the show was originally under private ownership, which reflected the increasing privatisation of the New Zealand health services in the early 1990s under the National Government. After the Labour government was elected into office in 1999, there was a renewed focus on public health services. As a result, in 2001 the producers of the show decided to have the hospital come under government ownership in order to reflect the renewed focus on public health.Shortland Street celebrated its 15th birthday in May 2007. As a result there were many changes that have occurred such as a refurbished hospital, new uniforms, and a new logo. A television special celebrating 15 years was screened on 13 May 2007, and on Shortland Street's actual 15th birthday (25 May 2007), the episode featured photos of previous character
s and settings, which "were found in the renovations".
Storylines are planned
five months
before they are due to be screened.
Beth Allen plays Dr. Brooke Freeman (
view Brooke´s FULL PROFILE here
), a G.P in Primary Care Clinic.
Below you can find all the articles published on Brooke Freeman
(the fictional doctor on Shortland Street).
Shortland Street: Friend or Foe (25. July 2011)
Nervous about the arrival of the research auditor, Brooke is shocked to discover when he arrives, that he is none other than old childhood friend, Alex Murphy.
"With all the drama with the research so far, Brooke is nervous that she has yet another hoop to jump through," says Allen. "So she is unsurprisingly shocked when the auditor she feared turns out to be a blast from the past!" Although initially warmed by the connection, Brooke is quick to realise that there is no love lost with Alex as the taskmaster.
With Winston (Min Kim) spotting a chance to get back in the good books with Brooke, he steps in to help her out, receiving in turn much desired praise.

However Alex isn't stupid and quickly realises Winston is meddling with the research to aid Brooke's cause and stymie his.
Brooke is shocked when Alex delivers some home truths.
"When Alex accuses Brooke of being a spoilt teenager, she is immediately hurt," says Allen. "However when she reveals how much of a difficult time she has had since her father's arrest she is surprised by Alex's reaction and the realisation they come to."
Capitalising on their new found understanding, Brooke agrees when Alex suggests a lunch date.
With the date a success, Brooke is left annoyed when Winston suggests she is putting her work at risk by perusing a romance with the enemy.
Taking matters into his own hands, Winston becomes determined to drive Alex away.
Warning Alex that Brooke has pursued men of power before, Winston touts success when Alex declines a follow up date with Brooke.
"Brooke is shocked when Alex declines a second date," says Allen. "But she isn't one to take things lying down and she always gets what she wants. Alex has a battle on his hands if he thinks he can walk away so easily!"
Shortland Street: Brooke´s research troubles (20.June 2011)
Brooke Freeman's (Beth Allen) dodgy actions come back to haunt on Shortland Street with the arrival of someone who may know that her research project is less than legitimate.
Having gained funding for her research project into asthma, Brooke has quickly realised that this medical project is more time consuming and complicated than she ever imagined.

"Brooke's a clever doctor, but she is not particularly good at multi-tasking," says Allen. "The reality of day to day work and then a project on top of that has made things incredibly tricky. Not to mention a complicated personal life that has definitely compounded the situation!"

A fortuitous meeting with renowned asthma researcher Lars Hammett (Sean O'Connor) proved a timely blessing for Brooke.
After his unfortunate demise, she was able to 'borrow' his research and palm much of it off as her own.

But when Hammett's wife Nadia (Jessi Williams) arrives in town wanting to learn more about the project, Brooke immediately hears alarm bells, knowing her research should now legally belong to Nadia.

"Of course Brooke knows full well that she stole the research from Lars, but she justifies it in that fact that he was such a seedy character," says Allen. "Her guilt immediately makes her feel that Nadia knows something and as a result, she begins to act suspiciously."
As Nadia continues to grill Brooke, and Winston pressures her to prove herself, Brooke begins to crack under the pressure, forcing her to go to great lengths to make sure Nadia doesn't discover the depth of her deception.

"I don't think Brooke is an inherently bad person, I just think she makes a lot of impulsive decisions and then struggles to deal with the consequences," says Allen. "Stealing a dead man's research project is definitely not one of her best moves, but now that she is stuck with the situation, she needs to deal with it. Coming clean just isn't an option in her book, so she resorts to every sneaky idea that she can think of to make sure Nadia remains blissfully unaware."
See if Brooke can weasel her way out of this one.


Shortland Street: Mummy Dearest (2. July 2010)

Shortland Street welcomes Louise Wallace (The Weakest Link, 20/20) when she makes a guest appearance as Brooke Freeman's (Beth Allen) mother Annette. Beth says she was excited at the opportunity to work alongside Wallace.
"When I found out they had cast Louise as Brooke's mum, I thought 'fantastic!' - Louise is beautiful and glamorous, and therefore excellent to play the part of Annette, who we have heard so much about over Brooke's time on Shortland Street," says Allen. "Working with Louise has been awesome. She is funny, self-depracating, experienced and just a real ball."

Beth remembers Wallace well from her presenting work during the 1990s, and admits she felt slightly nervous when she heard Wallace had landed the role on Shortland Street. "I just didn't want her to tell me I was the 'Weakest Link'," laughs Allen.
Annette's arrival in Ferndale surprises Brooke, and viewers will start to see a different side to Dr Freeman during her stay."I think we start to see the sense of responsibility that Brooke has with her mother. We may not have seen that side to Brooke before - of having to put someone else's needs in front of her own," explains Allen. "We also see the hurt that goes hand in hand with that relationship. It's a new kind of hurt. It's not men and it's not work. It's something different."
Scheming Brooke Freeman (Beth Allen) feels like her life is falling to pieces on Shortland Street.When Brooke's plan to kick Maxwell (Robbie Magasiva) out of the apartment they share backfires, she finds herself homeless and alone. Brooke arrives home to find the undisciplined Maxwell making a mess of their living area and she feels deflated by the reality of sharing a flat with him. It's clear they are getting on each other's nerves, and hot-headed Brooke demands that Maxwell moved out. "Brooke just wants to come home and relax, but Maxwell is anything but calming," says Beth. "With the television blaring and mess everywhere, Brooke realizes that she can't live like this any more. But at the work next day Maxwell is quick to take the issue to the bosses Callum McKay (Peter Mochrie) and Rachel McKenna (Angela Bloomfield) who rule in his favour. Trying her best not to crumble in front of them, Brooke is shocked by the outcome.
Despite siding with Maxwell, Callum feels guilty and attempts to make it right with Brooke by suggesting they re-establish their relationship. But she dismisses the idea. "Brooke feels like Callum has deliberately made her vulnerable in the hope of preying on her," says Beth. "It makes her feel very alone." Finally allowing herself to break down, Brooke is surprised, yet comforted, when TK (Ben Mitchell), the husband of Sarah Potts, drops by unexpectedly. Blown away by his support, Brooke realizes what she really needs in her life is someone like TK. How will Brooke pick herself up from this mess?
TV guide NZ
with thanks to Emmah for the scan.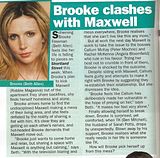 Covering Tracks (12. April 2009)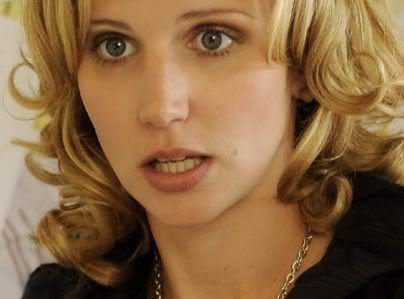 Brooke Freeman (Beth Allen) desperately tries to cover her tracks this week on Shortland Street when she makes a dire mistake with a patient. An anxious Brooke does her best to right her wrongs, but will it be enough? When Sarah Potts (Amanda Billing) confronts Brooke about an unstable patient named Barry Knox, Brooke is quietly unsettled to realise her own negligence is to blame. Sarah believes that Barry is suffering from serotonin syndrome, a direct result of incorrect drug prescriptions. "Brooke is surprised and embarrassed to learn that she has made such an oversight," says actress Beth Allen.
"She's been focusing so much on managing the PCC (Primary Care Clinic) that her standard of care and precision has slipped." Soon after, Brooke receives a phone call from the ambulance run about her distressed patient Barry, whose condition has deteriorated. Knowing she must tie up her loose ends, Brooke swiftly makes her way to the scene. "Brooke cares about her patient of course, but most of all she cares about her career," explains Beth Allen. "Wanting to keep the fact that she is responsible for Barry's issue quiet, Brooke knows she must do damage control, and quickly!" Things turn from bad to worse though, when paranoid Barry pulls Brooke into his apartment and locks the door. "
At this point Brooke comprehends the magnitude of her error," says Beth Allen. "Looking around Barry's apartment and seeing him in his delirious state really hits home." Moments later, Barry does something drastic that Brooke is completely unprepared for. Something that will leave both of their lives in jeopardy. A panicked Brooke does her best to comfort Barry, and confesses to him that his suffering is a direct result of her mistake which can be reversed quickly. But perhaps this acknowledgement has come too late?
Does this spell the end of Dr Brooke Freeman's career at Shortland Street?
Dr Brooke Freeman (Beth Allen) is forced to consider an unlikely ally on
Shortland Street
this week. After a dark turn of events in which former lover Ethan Pierce (Owen Black) was murdered, Brooke has been burdened by the glare of the police spotlight as one of their key suspects. Despite vehemently denying any involvement, Brooke has been targeted as possible killer. "Brooke has her suspicions of who shot Ethan," Says actor Beth Allen. "But unfortunately for Brooke, all the evidence seems to be pointing in her direction.
"The only hope for Brooke at this stage is to get a good lawyer, but that's going to cost her more moeny than she has available." But just when things are looking bleaker than ever for the fallen doctor, a face from the past shows up to give support. "Brooke is left shock when her father turns up to see her," says Beth. "They've been estranged for years and Brooke's pride and unresolved feelings of betrayal have always kept her from getting in touch.
"Now that he's back he seems to want to help, but Brooke can't help and think that he's up to his old tricks and can't be trusted. He's let her down once, after all."
With a twisted history of embezzlement and scandal, it would be fair to assume that Grant Marsden (Alan Lovell) May have an ulterior motive for his return to Ferndale. So the big question remains, will Brooke accept Daddy's metaphorical olive branch or will her pride mean he will continue to be kept at arm's length?
Brooke manages to form some unlikely alliances that may just be her saving grace.As more and more of incriminating evidence seems to point in her direction, Brooke turns to I.V. owner, Kieran Mitchell (Adam Rickitt) for advice and comfort.
Having had his own experience with murder enquiries, and filled with more than a little guilt over this situation, Kieran does his best to aid Brooke through these terrifying times."Kieran feels bad for Brooke and is willing to go out of his way to offer support and a well needed friend," says Rickitt. "Accustomed to being in sticky situations and dealing with his problems alone, Kieran can relate to Brooke's predicament".Much to Brooke's astonishment, her second improbable ally, is her father, whom she has been estranged from for many years.
"For most of Brooke's upbringing she was a modern day princess," says actor Beth Allen. "However, this all came crashing down when her father declared bankruptcy - and accused of insider trading, he skipped the country to avoid charges."Overwhelmed to see her Dad for the first time in years, Brooke is determined not to get too close. But Grant Marsden may have the resources to help her out of her current dilemma. "After all these years, her father seems to have recovered his financial wealth," says Allen. "And what Brooke needs right now is someone who can cough up some cold, hard cash so that she can hire a good lawyer."

But why has Grant Marsden returned after all these years? Is it to help out his darling daughter in her time of need? Or does he have an ulterior motive for appearing on her doorstep?"There isn't a lot of trust where her father is concerned," says Allen. "So Brooke is pretty sure that there must be something in it for him if he is offering to help. The only problem is, she isn't really in a position to turn down offers of support these days."
NZ Tv Guide Feb 7-13
The ambitious Brooke Freeman (Beth Allen) continues her plans to become the new lady of the Warner house. As well as being a capable Doctor, Brooke is quickly revealing herself to be a talented manipulator when it comes to getting what she wants.
"Brooke has always had a way with the opposite sex," says Allen. "She has that icy superior appeal which piques the interest of even the most unattainable men.
"Trying to win over a child is a new ball game all together. Harry Warner isn't susceptible to Brooke's usual charm - as far as he's concerned she's a threat to the affections of his father."
After unsuccessfully trying to get Harry on side with a series of bribes, Brooke decides that a divide and conquer approach is the only way forward.
"Brooke wants Chris to believe that Harry is a problem child," explains Allen. "All the while affirming that she has his best interests at heart. Little does Chris know - the only interests Brooke has are those that directly benefit her."
When it comes to playing a conniving vixen, Beth Allen is revelling in the challenge.
"As an actor having an opportunity to play a character who is so far removed from your own personality is wonderful," she says. "Apart from a shared love of shoes and clothes everything about Brooke and me is different - especially the hair style!"
With naturally curly hair, Beth spends over an hour getting transformed in to her femme fatale alter-ego.
While Brooke's not busy plotting revenge on little Harry Warner, Beth Allen is filling in every spare moment working on another drama project -
The Eight: Reindeer Monologues
, which will be performed at the Basement Theatre in December.
"This is my pet project," explains Allen. "While I adore acting on Shortland Street helping produce and perform in a play is something extra to keep the brain ticking over. The Reindeer Monologues is a complex and witty play about sex, lies and Santa.
"I'm committing all my spare time into making it happen, it's challenging but I love it. I will be well ready for a holiday come the end of the year, that's for sure!"
source