This is an unofficial fan site of Beth Allen.
I do not have any contact to Beth, her manager, Cloud 9 Studios or South Pacific Pictures.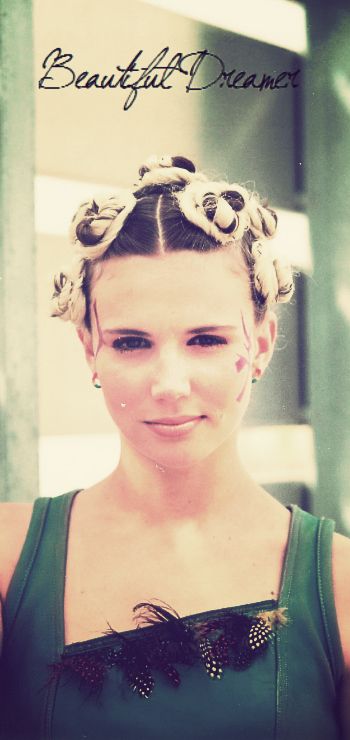 Anyone who is a fan of Beth Allen ( Shortland Street's sassy vixen, Dr Brooke Freeman) will probably have heard her complain that of all the girls on the show, she is in the make-up chair for the longest because of her unruly hair.
That's because the lovely Beth has wild curly hair, whilst Brooke is always perfectly coiffed with straight sleek hair.This means the hair and make up team at Shortland Street have to put in the hard yards every day to make sure that her curly hair is transformed in time for her to step on set.
All this straightening day in and day out had done some serious damage to Beth's hair!
So, she was pretty stoked when heard about this fabulous new treatment from Stephen Marr Salons.
Be on the look-out over the next couple of months to see if you can notice the difference in Beth's hair after having the Keratin Complex Smoothing Treatment.
This brand new treatment is exclusive to Stephen Marr and is designed to give you silky smooth, shiny, manageable hair.
But the beauty of this treatment is that unlike other straightening treatments, the more you have the Keratin Complex Smoothing Treatment, the better it is for your hair.
The treatment lasts for 3-4 months and reduces drying time and makes it easier to style your hair - perfect for Beth when her hair has to be styled five days a week, for 47 weeks of the year!
"
It has made such a difference to my hair! Never before have I been able to wash my hair and leave it dry; instead of ending up with a crazy curly mess on my head, I have gorgeous wavy locks - my fiancée reckons it's totally beach-babe. The treatment is fantastic and Simone at Stephen Marr took great care with applying it and advising me how to look after my hair afterwards."
Even the team at Stephen Marr, who have definitely seen some pretty impressive treatments over the years, are amazed by the results of the treatment.
''Beth's hair is in amazing condition after her treatment," says Stephen Marr Senior Stylist and Keratin Specialist, Simone. "Her hair is glossy and manageable. It's reduced 99% of her frizz and unruly curl. The results are fantastic.''
Brooke is stylised as a fashionable female. Her early style was based on
Katharine Hepburn's
classy image.
She has often been played with full make up and straight hair.
Beth Allen once revealed it took more than one hour each day for the make up department to create Brooke's look. Due to Allen's thick-curly hair being hard to maintain, she had to have chemical treatment to straighten it. This was also used to keep continuity with Brooke's appearance.
Described as "ultra-fashion-conscious", Brooke has usually dressed in tight silky blouses, high-waisted skirts and high heels. The skirts have made full movement for Allen difficult.
A "classic Brooke look" is a black fitted dress, worn with a belt and gold jewellery and heels. Brooke's colour scheme was made up of very dark tones such as black, grey and gold. The serial's stylist Nicola Newman revealed that when Brooke showed her "vulnerable side", she implemented lighter colours to convey the change.
Steal her style: Brooke Freeman (29. March 2010)
Can you tell us a little bit about Brooke's look?
Brooke's style was initially based on Katharine Hepburn, so tidy and stylish, with quite an hour-glass silhouette.
Her signature outfit would be
a fitted blouse or jacket, paired with a high-waisted skirt and wide waist belt
. Brooke always wears some
killer heels
and
jewellery
too.

What are a couple of classic Brooke garments?
Some classic Brooke garments would include a black fitted dress, worn with a belt and some gold jewellery and heels. This look is often teamed with a classic fitted jacket or stylish trench coat.

What's Brooke's signature colour palette?
Brooke's colour palette consists mostly of very dark tones, including black, brown, gold, gray and blue.
Cream is often worn to break it up a bit. Lately though, we've seen a softer, more vulnerable side of Brooke, so I've thrown in some bolder colours such as red and purple to illustrate this.

Where are some good places to shop to get Brooke's style?
State of Grace, Cue, Sway of Boutique, Isakelle, Decjuba, Kookai, Country Road, Portmans, Calvin Klein and Saben bags.

Makeup artist Tracey Nelson shares some handy hints about how she transforms actress Beth Allen into Brooke Freeman.

Makeup: We start by using Mac studio-sculpt foundation then she has a selection of cream and green eye shadows with a matching Mac eyeliner.
We apply a creamy peachy blusher and lots of lip gloss, usually with a lipstick underneath.

Hair: Beth recently had a Keratin Relaxing treatment (from Stephen Marr) in her hair, which has been great as it makes blow drying her hair much easier and the feel of her hair amazing.
Beth's hair is naturally very curly, and tends to kink with the slightest hint of moisture. But with this treatment, it resists the humidity.
This is incredibly helpful at Shortland Street for continuity.
Some hair product essentials: Before the hair treatment we used a Rusk Smoother in her hair before blow drying. But now we don't need to use anything and it looks fabulous.
Beth uses the recommended shampoo and conditioner in her hair to keep it in optimum condition.

source
Beth's costume on The Tribe (flash player required)
 Costume...with Susan Glass and Gavin McLean
"Whilst reading the script you realize that Amber is a strong leader with tremendous attitude" says Costume Designer, Gavin Mclean, "and she would wear street styled fashion to match. So I wrote up a character profile and created the look from there. Because she was a real toughie she needed tough fabrics, so I thought leather would be really good."
"Amber has such a strong, modern look" adds Susan Glass, Hair and Make-up Supervisor. "Gavin McLean, our costume designer had drawn up some sketches and we were provided with a brief on what her personality was like. We had a lot of design meetings where everyone had initial creative input. We also work closely with the Producer and Directors and follow the storylines. Also, Ray Thompson (Executive Producer) had a vision of how she should look and we all worked towards that. Then as time went on the look just sort of changed­ a natural progression really".
"And as far as creating the costumes go" says Gavin McLean, "we need to know how the actors feel about their look and their character. It's important we see eye to eye and they are comfortable with what they wear."
How long does it take for Beth to get her hair and make up done?
Susan Glass says it takes about "45 minutes for hair and 45 minutes for makeup. But if you are going to do it at home, make sure to allow more time. And practice with different makeup colours and styles".
What would have been the most expensive and time-consuming outfit made for Amber?
"Probably the 3/4 length leather pants and jacket" says Gavin McLean. "When you make leather garments there's a lot of work, time and money involved. It's not as simple as buying fabric and cutting it out.
Amber usually has her zulu knots wound tightly upon her head but for a brief few episodes she had this gorgeous style. Her hair is still sectioned but the knots are left to fall free.
In making this hairstyle the hair is divided into 12 sections! Not at all easy. It is done on damp hair which makes it a little easier. In series one Beth Allen had long hair and so her natural hair was used. Later on after she had her hair cut the makeup department used "wefts". These are long pieces of hair that are attached to the scalp and pinned in place.
Once the hair is divided it is wound and twisted tight at the scalp and secured with a rubber band and then pinned with bobby pins. Lots of wax is used to keep it tight and easy to manage.
Amber's hair was bleached and then the re-growth left to grow to keep the contrast.
Susan Glass, Hair and Make-up Supervisor, reveals how to put "Zulu knots" in your hair - and further down some make-up secrets - to get the "Amber look"..
Why did you choose Zulu knots for Amber's hair?
"Zulu knots look great" says Susan Glass, "and they're really practical for long hair. They make a real statement too".
If I wanted to re-create Amber's look, where do I start?
"Well, keep in mind you need a look that suits you. So adapt Amber's look to your own look" says Susan Glass. "If you don't have bleached hair, the Zulu knots will still look just as good. If you do want to bleach your hair, get it done at a salon. Home bleach jobs can get quite messy!".
How long will it take to make the Zulu knots?
"I'd allow about 1 1/2 hours if you've never done it before" suggests Susan.
How long will my hair need to be?
"Shoulder length or longer is usually good".
Can anyone do it?
"Absolutely! With the right products, instructions and a little determination - and plenty of time".
1. You will need:
Styling gel and styling cream
Hair pins
Hair spray
2. Make very defined sections with your hair
"Make sure you have lots of styling gel and styling cream. This will allow you to smooth the hair surface down, then start winding the hair around from the root until to gets really tight like a coiled rope" says Susan Glass.
"To make the hair curl up, release the tension and the hair should bend back into a coil and start to look like a knot".
3. "Pin the knot into place then...
Gel down any stray hairs.Spray with a strong holding hair spray - and that's it!"
Does it wreck your hair?
"No, not at all. The coiling is fine. Make sure to wash your hair with a deep cleansing shampoo once a week. This will help remove the build up of products".
How do I wash my hair when I have Zulu knots in?
"You can rinse it out. But I'd advise removing them quite frequently".
How often do I need to take them out?
"Well, it depends on whether you can sleep with them in at all" suggests Susan, "I think they would be quite uncomfortable to sleep in".
Where did Zulu knots come from?
Zulu knots are from the Zulu people, a traditional South African society near the Sea of Durban. Like most tribes, life is based around a belief system of religion, music, dancing and rituals. Many members of the Tribe would wear knots in their hair and that's why the style is called "Zulu knots".
What products do I need to start doing Tribe makeup?
"A black kohl eyeliner pencil and a good pencil sharpener. Black mascara and an eyebrow pencil. For eyeshadow choose gold, orange pinks. A nice tinted gloss for the lips and makeup blending brushes. Make sure you get a nice translucent powder to set the makeup".
Do I need to use expensive stuff?
"Not at all".
What is the best way to remove make-up?
"Remove eye makeup with a special eye makeup remover on a cotton square.
Invest in a good deep cleanser. Use warm water and a flannel. Then a toner and moisturizer. To find good products that suit your skin ask a store consultant".
"And always, always remove makeup every day. Don't sleep with makeup on!".
"To keep your skin clean and blemish free make sure you cleanse your skin thoroughly after wearing makeup. Use a facial scrub once a week to remove any build up in your pores and choose a moisturizer with a sunscreen" suggests Susan.
Here's a little trick too...
Susan recommends that "if you decide on what patterns you want to your face, then get a piece of plastic and make a stencil of the pattern. This way you can sponge the pattern on time after time and it will always look as good as it did the time before. Always remember to allow plenty of time. And practice makes perfect".
Amber's first Season 1 Costume
This was worn by Amber in the very first scenes of The Tribe when Amber was establishing herself as a leader within The Tribe.
She saved Cloe from the Locos and then settled everyone into the Mall for safety.
This outfit is typical of the sorts of clothes the kids of the city would have scrounged for in the months following the virus. Not quite like the trend setting bright outfits that came in later series'.
First of all Amber wore this leather vest. It is made of brown leather with the suede side out so it is a little fluffy. It is very short and would barely cover the midriff. The front is panelled and at the bottom there are splits on each side. The middle front of the top has two vertical boning strips and the front is held together by a seperate piece of leather sewn across both sides to keep them together.
The back is pretty much the same design with two slits also cut at the bottom. There is a long brown zip that does up at the back. On both the front and the back there are curved pieces of leather sewn from each slit up to the shoulder blade and arm holes.
The vest is lined on the inside with black cotton fabric.
The back is pretty much the same design with two slits also cut at the bottom. There is a long brown zip that does up at the back. On both the front and the back there are curved pieces of leather sewn from each slit up to the shoulder blade and arm holes.
The vest is lined on the inside with black cotton fabric.
The jeans Amber wore were very high waisted and so even though her top was very short, she wasn't baring her tummy too much as the jean's compensated.
The jeans are dark blue witha criss crossed lighter sections stitched onto the front of each leg. They are done up with a button fly and have some very unusually detailed pockets. On the right hand side there is the usual side jean pocket with a little coin pocket inside it. But underneath that there is another straight pocket and over that there is sewn a little double pocket with a seperator in the middle. That makes five pockets on the right hand side!
On the left hand side there is also the standard jean pocket with a little coin pocket inside it. Underneath this there is sewn a gathered piece of denim that looks like a big ruffle as it goes around the side of the leg.
Underneath this there is a very large pocket that sits on the side of the leg. It does up with a dome flap and has a pleat sewn into the face of it.
The back of the jeans is pretty standard and there are two large bum pockets, one on either side.
The jeans are tapered and have elastic attached to the bottom as Amber wore these jeans tucked into a huge pair of black boots.
With this costume Amber also wore this large denim jacket.
Amber's second Season 1 Outfit

Her top is very tight fitting and is made of very dark green leather (it appears almost black). It is a sleeveless vest with fitted sides and along waist that splays at the bottom to sit over the hips.
On the front around the waist there is a pocket on either side. These are done up with big black plastic zips as is the one that does up right up the middle
Around the bottom of the top there is a large matching green leather belt. This loops around the waist and has a double pronged round buckle at the front.
Amber's leather pants are also tight fitting. They are 3/4 pants and go to just below the knee. Again they are made of the same green leather.
They have a short waistband and are done up with another large black plastic zip up the front. Two more hidden pockets sit on each hip.
Each leg has a seam down the front and on the left leg seam there is a large peace sign patch across the thigh.
On the other side there is also a peace sign patch but this is more on the side of the leg.
The bottom of each of the legs is split to fit better around the knees. The splits are on the front seam.
Through a lot of Series 1 Amber wore this large denim jacket.
It is made of black denim but is quite faded. It is made in a trench coat style and is very heavy. There are two breast pockets at the front and jacket does up at the front, all the way down, with silver domes.
Around the neck, shoulders and on the elbows there are patches sewn with criss crossed brown cotton. Down nearer the thighs of the jacket there are two more large deep pockets. The crazy thing about this jacket is that it comes to pieces. Both arms are unzippable and so is the jacket from the waist down. At one stage during Series 1, Amber wore only the top half of the jacket as it was unzipped at the waist.
With this outfit Amber wore large leather boots with large heel and she also wore a fairly large peace sign as a necklace. . It was a blue necklace with the peace sign in silver.
This costume is one of the most talked about costumes in The Tribe's existence. Some people hated it and others loved it. But the amount of effort that went into making this costume is evident.
The skirt is obviously made of thousands of feathers. They are mostly pheasant feathers but there are also a lot of plain dyed feathers in dark blue, and light blue.
The skirt is actually made in three pieces. Each one is about a metre long and shaped like a petal. The back layer is a dark blue satin. Sewn into each petal in neat overlays are the rows of feathers. Each row has actually been made seperately and then sewn onto the backing.
There is a small but tight piece of fabric that is sewn across all the pieces of feather that keeps them in a row and at the same length. The fabric is folded over the top of each feather and then sewn - put some more feathers between the taping and sew across them. It looks like a lot of work but what an amazing result.
The top most row is mostly of white and very light brown feathers. They are fluffy at the top end and then get long and narrow as they get longer. Interspersed with these white feathers are dark purple/blue fluffy feathers that have been dyed.
The next row are more of the same feathers as above but they are getting slightly darker in colour and there are some light blue feathers added to the mix.
The next layer has very brown feathers and some speckled or zebra patterned feathes plus the occasional purple one.
The next colour change is to the light blue feathers and then to dark blue, still interspersed with some brown and white ones.
The skirt has a large waistband in the same backing fabric and has a slight "V" at the front. It is done up with a hook and loop and a snap button.
The shoulder cloak is made along the same lines although a little tricker to make as it is sewn in a circle. Again each row of feathers has been made seperately and then attached to the cloak.
The corset is made of a very light blue leather. The armour or snakelike pattern has actually been painted on by hand in blues, silver and brown. The detail is fantastic. At the top front of the corset are rivets in a symmetrical pattern.
The leather has been cut along the bottom in a sharp at the front but extra pieces have been sewn along the edge with a little frill in it so that it sits nicely on the hips.
Along the top neckline on the inside edge has been sewn some light blue feathers. These pop up over the front.
The corset is done up at the back with blue cord criss crossed through nine eyelets.
When Eagle wasn't wearing all her feathers she was in a blue mesh top, the corset and her snakeskin pants. To go with this outfit she would wear this long grey jacket. It is very heavy and is made of wool. It is a very large coat and the wardrobe team have come up with some great ideas for making it fit the very slim Beth Allen.
The front has been pinched on both sides and overlapped and then sewn to pull it all in. Across these pleats has been attached paua shell buttons. The neckline is a little different - this jacket obviously once used to have buttons all the way up the front - but what the wardrobe team have done is cut a triangle shape out of the top half and brought triangle sections of the original cut back to the middle as something different.
On the top of the shoulders has been attached pheasant wings almost in their entirety. There would be literally hundreds of feathers in each wing piece. They have some amazing colours and the feathers change across the wing. These have also been attached to the lower arms of the jacket.
The coat is lined in a green fabric that also shines purple from different angles.
The jacket just adds to the whole bird and eco look of this lovely costume.
Along with this costume Amber wears large blue boots which have been painted with a similar pattern as her corset.
Amber's second Season 3 Outfit
The dress is made of orange lycra with a snakeskin print. It has spaghetti straps made of blue lycra and the top of the dress around the neck as well as the little hole in the middle is also lined in blue lycra.
The bust of the dress is very short around the sides but does come all the way down the front and back. The sides have been cut away but little loopholes have been left and these are criss cross tied with blue drawstring. As the dress extends to the waist it widens again and actually joins again at the side. The front panel is very short like a mini skirt and the back of the dress is long - below the knees.
Over the dress Amber wore this lovely beaded singlet. The singlet is actually crocheted and each little loop has a lovey multi-coloured bead threaded on. The criss cross of the stitch makes the top a little stretchy and sit really well. The neckline has been lined in bright blue elastic edging.
The front of the singlet has been gathered from the bottom middle to half way up. This has been secured witha large metal clip.Under the dress Amber wears some bright blue lycra. These are either shorts or a very short mini skirt - cannot quite tell from the photos.
Amber wears long blue arm sleeves and had large metal arm bands just above the elbow. These metal arm-bands also match her chunky metal choker that actually does up at the back with criss crossing black drawstring. She also wears knee high black boots to top it all off.
Amber's Season 4/5 Outfit

This costume of hers is very earthy with natural colours and textures. There is definitely still an Eco-Tribe vibe in Amber's style.
Amber's top is made of a torquoise coloured leather. It is a singlet style 3/4 top. The front panel is a quadrilateral but the neckline and midriff hem are slanted.
At the bottom of the top the leather joins into a buckle that does up above the waist. Along the front neckline are sewn in feathers, most notably peacock feathers but there are also yellow and black feathers, red and black, and blue and black.
The back of the top is done up with black lacing. There are eleven eyeholes down each side of the back.

The back of the top also has two pleats at the back which help keep the top fitted and tight against the skin.
All the stitching on the top is in thick yellow cotton thread.
Her pants are 3/4 pants and come to just below the knee and sit low on the hips. They are made of thick brown leather. On the bottom half of the leg is sewn in a semi-circle on each leg a piece of possum fur. It actually goes all the way around the side-split in the leg. The side split is 22cm long and stops above the knee. The pants are designed this way to give much more movement in being able to bend the knees. If you remember Amber's black 3/4 length leather pants in Series 1, they were very tight and had no split around the knee - this made them very hard to run in.
These pants have no waistband and no belt loops but there are two side pockets at the front.
Amber has long been a wearer of 3/4 leather pants - tight black ones in Series 1, red ones when she was pregnant in series 3 and 4 and now these ones.
As a fashion accessory rather than to keep them up I think, Amber wears a large brown leather belt. It is made of the same leather as the pants and has two buckles at the front. Also on the belt are two small pockets one on either side of the buckles. They are done up with two metal domes.
The belt is a large one and is 8.5cm wide.
Amber's jacket looks fabulous on her. It is made of a velvety fabric that is taupe and black in colour. The fabric is reasonably lightweight and I think looks heavier than it really is.
It is a full length jacket with two large pockets on either side about mid-thigh. The jacket is a fitted shape and has been pulled in a little at the waist and, two buckles at the front to do it up, help pull it in even more to fit nice and snug. It features a large hood and the arm cuffs are very flared.
The trim on the jacket is rabbit fur. It's amazingly soft and has been dyed a musty green colour. This trim is on the cuffs, and is also around the wrist of the sleeve, three layers of it around the shoulder and it is also used as edging around the collar and the hood.
The coat is lined in brown satin.
Amber's boots are not to be taken lightly! They're huge!
They're described as patchwork leather boots. Made of various shades of leather in browns and oranges and reds. The heel is 11cm high that's 110mm. Around the sole of the shoe is a veneer of leather which has stitching patterns on it. They're done up with a brown zip on the inside of the ankle.
Beth can walk pretty well in these boots but has to be careful not to twist an ankle and always takes them off if she needs to run. It's a long way to fall!
Her necklace is very cool. It's made of a large curved shaped piece of paua (abalone) shell. Laid over the shiny part of the shell is a red feather. The paua shell and the feather are sandwiched between two thin pieces of flexi plastic and sealed at the edges with very thin copper sheeting which gives it nice coppery glow. Three holes have been drilled through this and three small glass orange beads have been attached to the front.
Holding the necklace on are four pieces of copper wire. Two on each end of the necklace. These have been threaded with copper/orange coloured beads and more paua shell.
These rainbow coloured earrings Amber has been wearing for quite a while. They're a simple hook shape but are very cute.